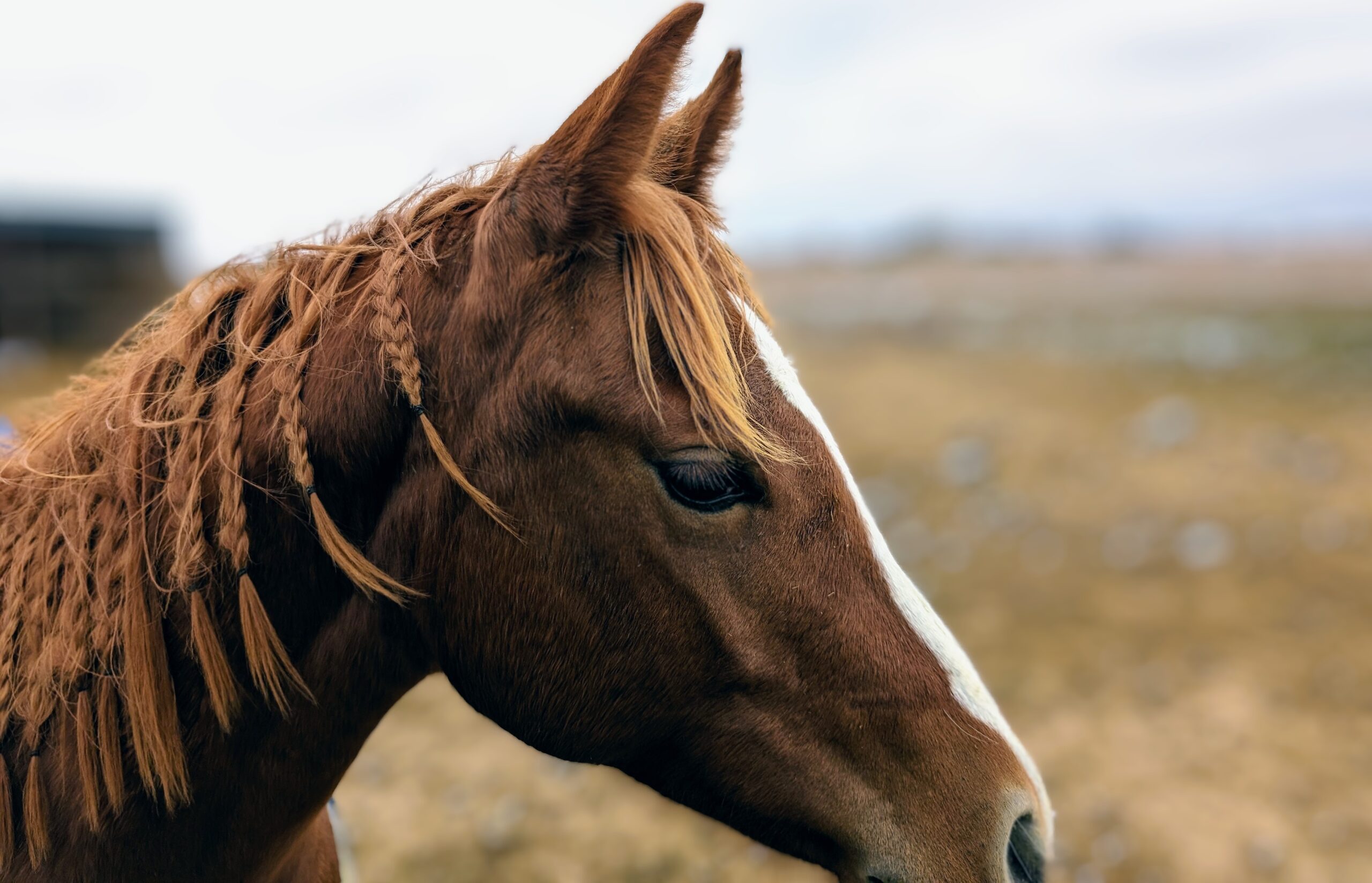 "There is something about the outside of a horse that is good for the inside of a man."
WINSTON CHURCHILL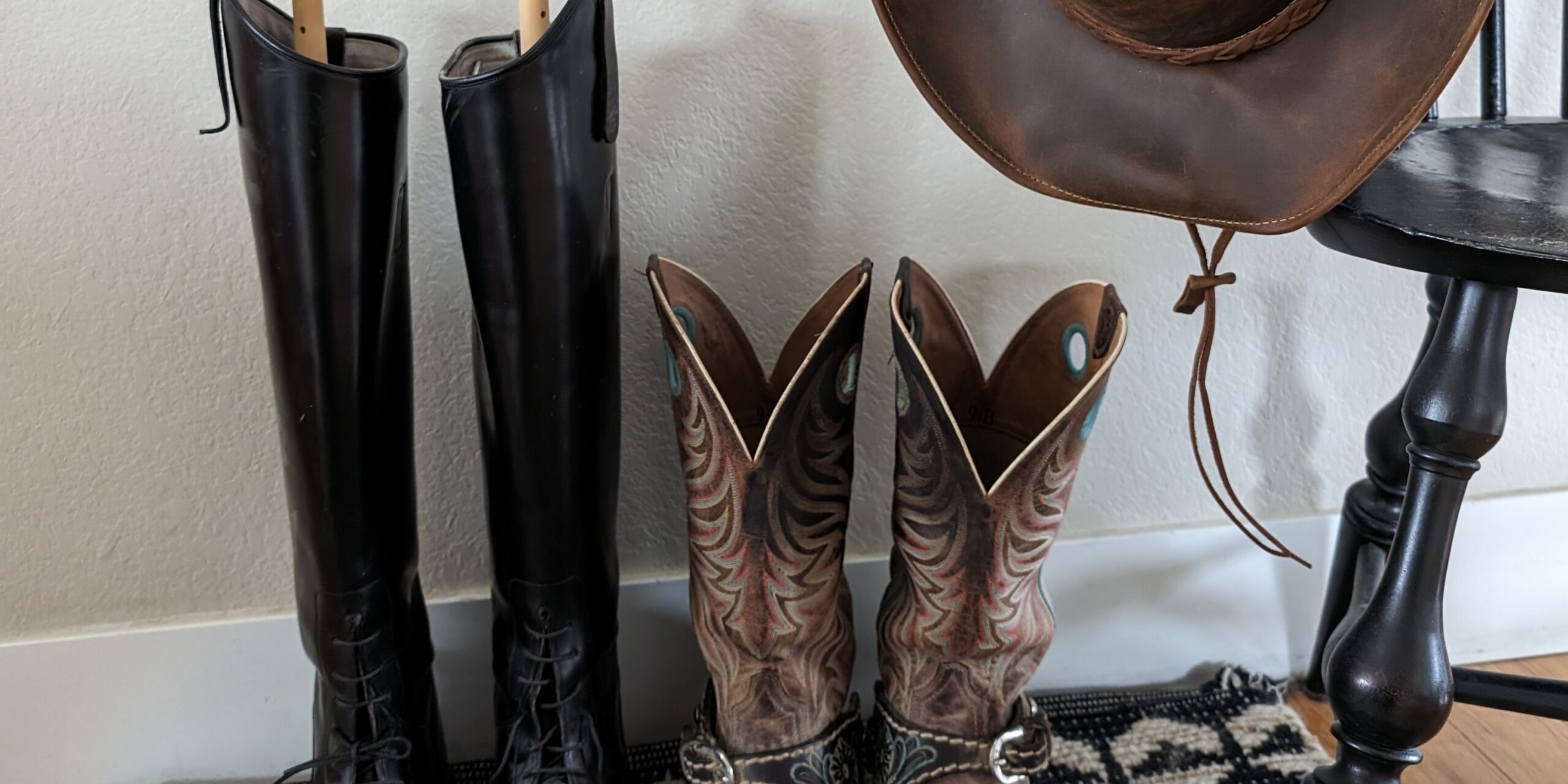 When asked 'do you ride English or Western?', the answer is always 'yes!'
While my early training and riding foundation is strongly rooted in English riding, I have learned over the years that riding a horse is riding a horse. Period. It doesn't matter what tack you're using, or whether you even have tack on at all! The foundations of riding are simple: balance, quietness, independence and confidence.
Yes, there are differences between neck reining and direct contact. A horse that jumps is steered differently than a cutting horse. A Western bit acts differently in the mouth than an English bit. But these nuances do not come into play until a strong foundation is first established. Once you have a strong foundation, a rider should be able to fluidly and easily mount any horse in any kind of tack and feel confident and in control.
Every great rider needs to first learn the basics, regardless of discipline. Whether you want to sail over 5-foot fences in the Grand Prix or careen around barrels at break-neck speeds, you need a balanced seat, quiet hands, and, most of all, passion. This passion starts early-on in riding. It is nurtured by quiet, trust-worthy horses, it is challenged by knowledgeable instructors, and it is what drives you to saddle up for each and every ride.
I started NOCO Equine to spark this passion. To provide every rider, regardless of discipline, a strong foundation to base their riding career off of. I focus on balance and comfort in the saddle, confidence, and, most of all, positive experiences. I teach my students to become independent riders, not just passengers in the saddle. At the end of the day, every great rider is more than just a rider. They are a trainer, they are an instructor, and they are in complete control of a 1-ton animal capable of flying.
Regardless of where you dream of winding up, a good rider needs a good foundation. And that is exactly what we specialize in.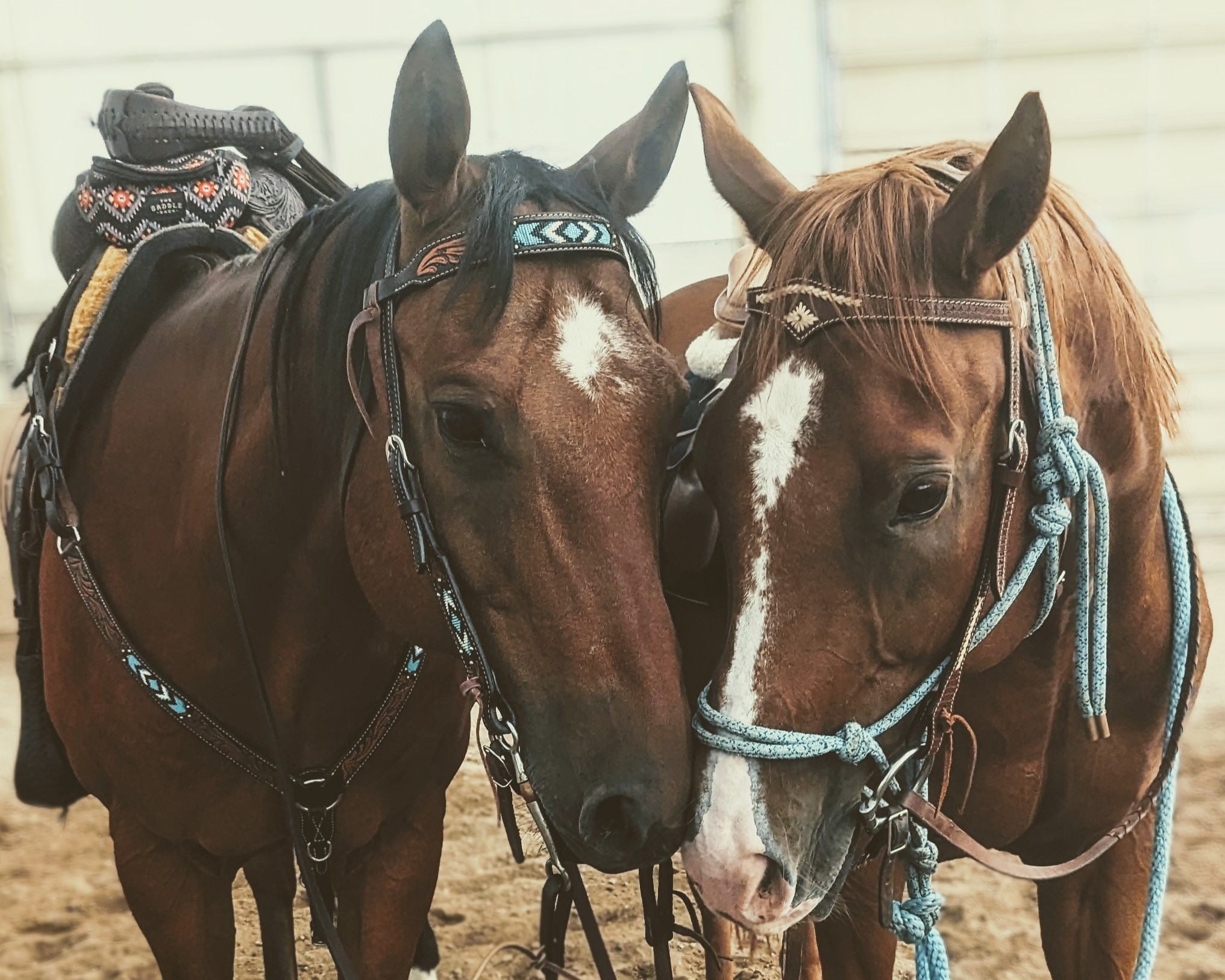 Samson and Suede ('my boys') are the heart of my lesson program. These horses are worth their weight in gold. They're quiet minded, willing, and, most of all, patient.
Samson (left) has been with us for almost ten years now, but don't let his age fool you! He has plenty of spunk and is eager to please his rider. He patiently totes our littlest riders around, teaching them the basics of control, while also serving as our more advanced horse when it comes to working at the trot and canter.
Suede (right) is as quiet and level headed as they come. He is the perfect horse to teach our riders how to trot and canter, offering a quiet smooth pace at each gate. He certainly has more woah than go, so if you want to go fast, you're going to have to work for it!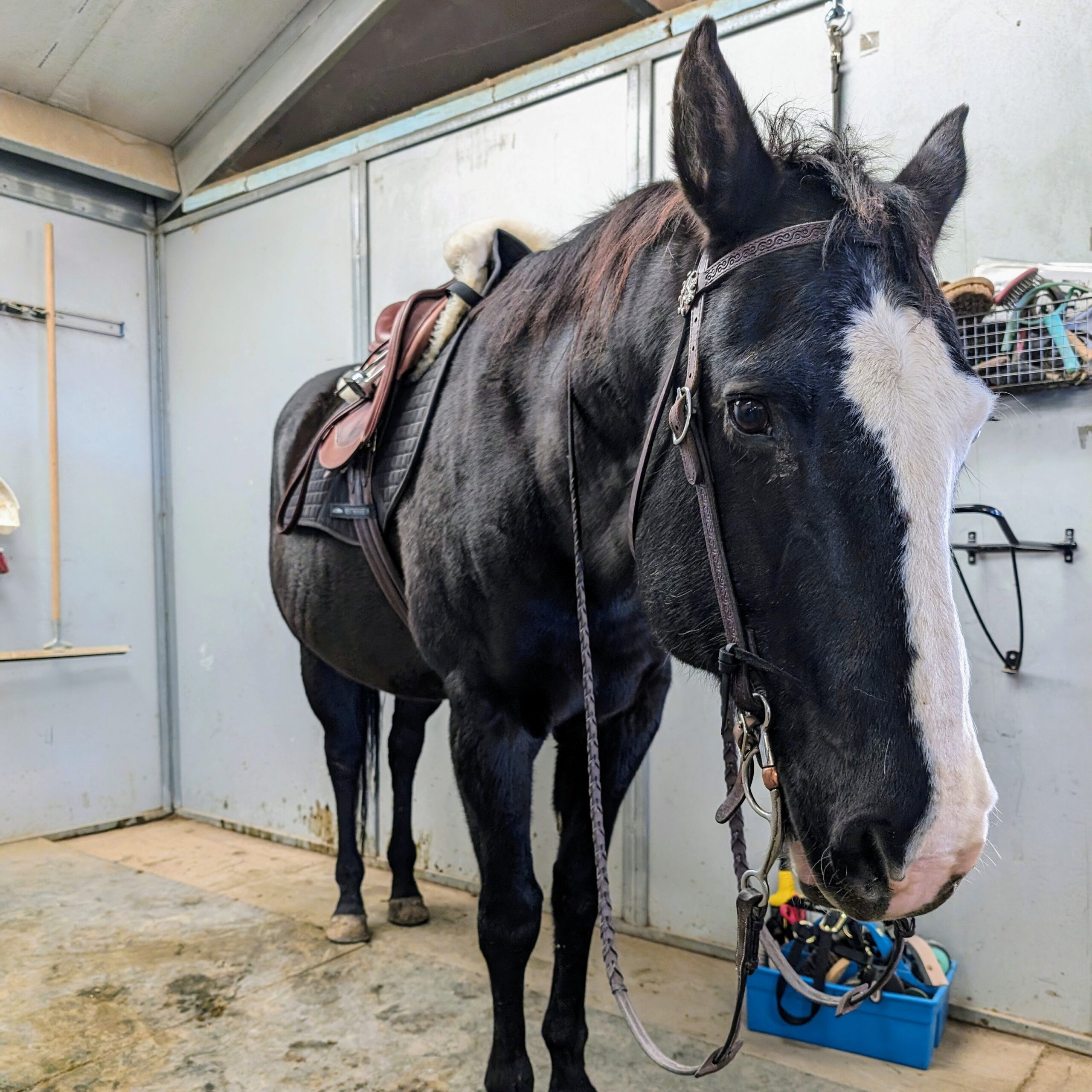 While Midnight is a relatively new addition to our program, he is certainly not new to teaching littles to ride. As a long-time pasture buddy of my boys, I've had my eye on him for a while and can now, finally, announce that he has found a home with us!
Midnight is 16 hands of sleeky black fur and big, trusting brown eyes. He is quiet, steady and willing. Be careful with this one, though, it is usually love at first sight the moment your littles lay their eyes on him!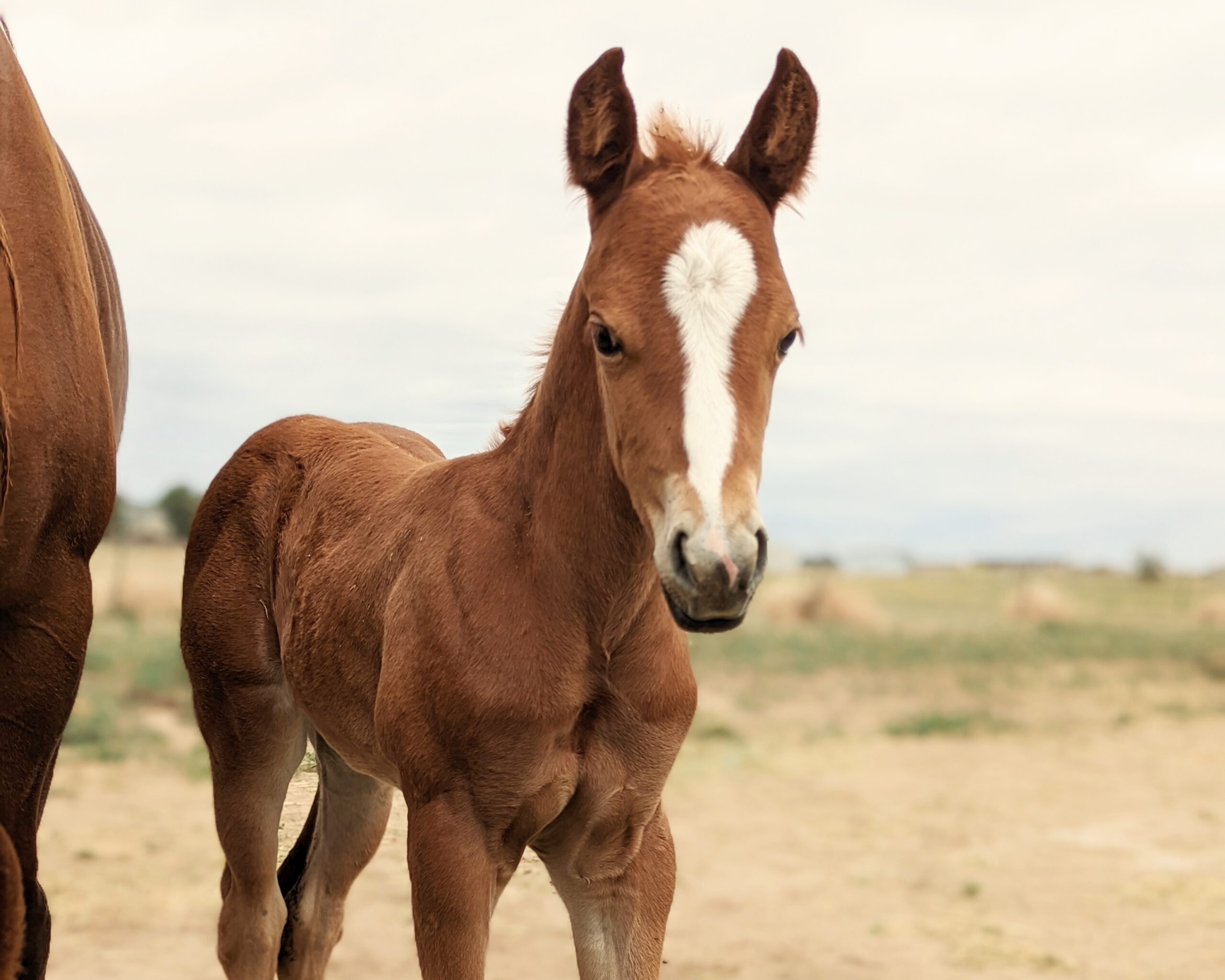 Della ('the baby') is the newest addition to our herd.
Obviously, she isn't used for lessons just yet (she's just a baby!) but she loves cookies and nose kisses. I always encourage all of our students to go over and love on her. Afterall, there's nothing better than foal snugs!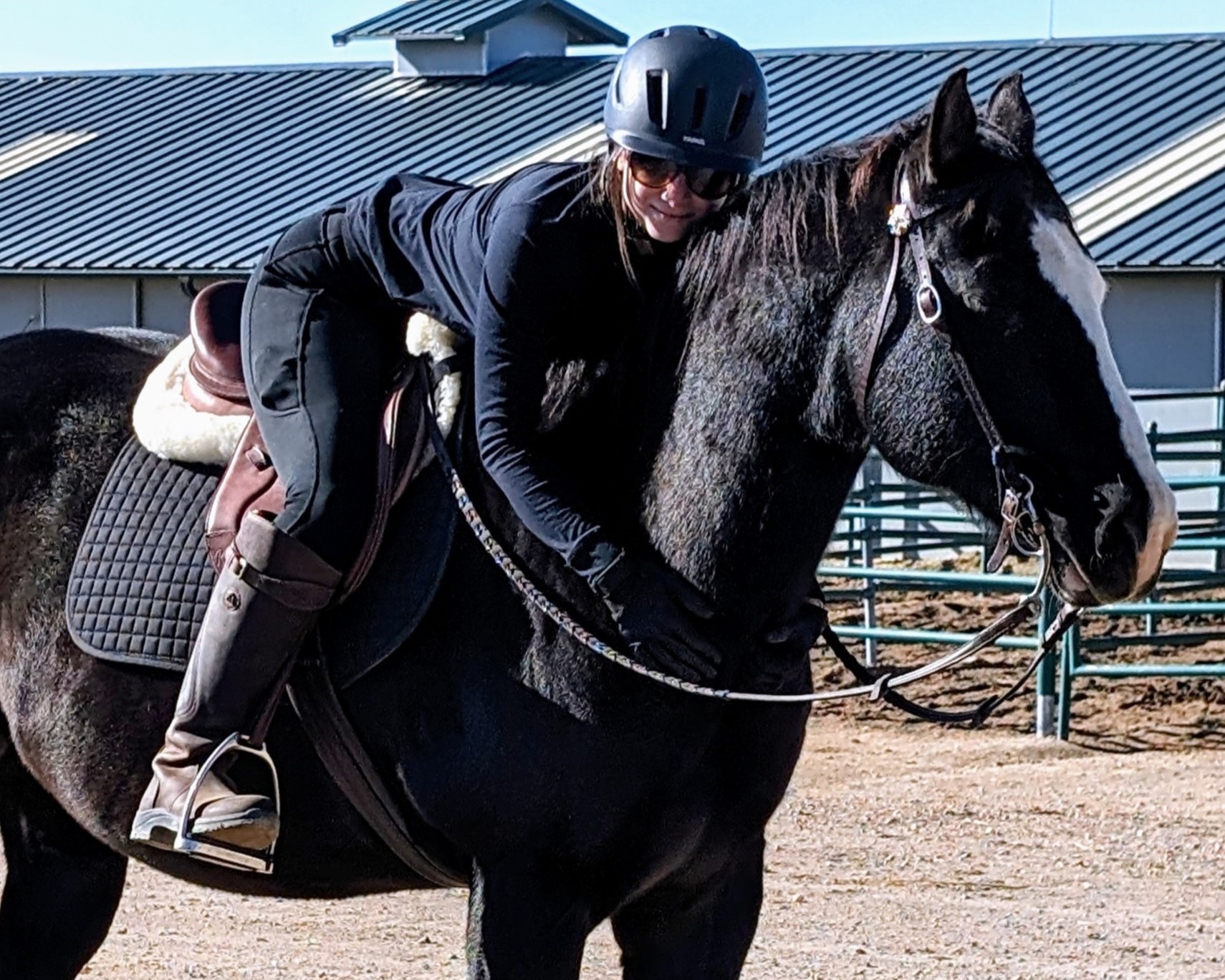 I am the instructor behind NOCO Equine. I have over 25 years of riding and equine experience. I started riding as a little girl and never stopped. I grew up outside of New York City as a horse-crazy girl eager for any opportunity to get in the saddle.
My passion for horses took me across the country to attend Colorado State University (a college dedicated to teaching you about horses? Yes please!) I took every hands-on, horse-related course I could find, including Riding Instructor Training, Techniques in Therapeutic Riding, Equine Event Management, and Equine Behavior to name a few.
I graduated the Equine Science program at Colorado State University in 2010 with a Bachelor of Science and returned to earn a Master of Science degree in the Animal Sciences program at CSU in 2014. While earning these degrees I worked for the US Geological Survey on their wild horse research, interned at Royal Vista Equine in their breeding program, and worked in the Animal Reproduction and Biotechnology Laboratory over at CSU.
In 2015, I stepped away from my career path and gave birth to a set of twins. Those twins are now young kids that are learning what wonders can be found between the ears of a horse. Watching their faces light up in the saddle is worth more to me than any blue ribbon in a show ring. It is also the impetus that started NOCO Equine.
Starting NOCO Equine is my way of taking 25-years worth of equine experience and sharing that with other horse-crazy little kids. Every little kid who dreams of horses should have the opportunity to smile ear-to-ear from the saddle. That is why I'm here. So get your camera ready. The smiles are worth it!